Phonics and Reading
Subject Leader: Mrs Adams
'At Martin Frobisher Infant School we love to read! We put as much effort as we possibly can into ensuring your child will learn to read as quickly as possible. Being able to read is fundamental to all other areas of our curriculum and our dedicated staff team do everything they can to make sure our children can read for themselves with confidence, fluency and understanding by the time they leave us. We love stories and we put all of our efforts into making sure our learners develop a love for reading too'. We are very proud of the amazing progress our children make with their reading during their time at our school'
Mrs Adams, Reading and Phonics Lead
How will my child be taught to read at Martin Frobisher Infant School?
At Martin Frobisher Infant School we follow a synthetic approach to teaching phonics. This means we carefully teach children about the sounds individual and groups of letters make and how they are blended to form different words and support early reading and writing. We follow our own Martin Frobisher Phonics Program which is designed to ensure consistency and high outcomes for all of our children and is underpinned by the Letters and Sounds document.
Here is the structure of phonics session that your child will enjoy daily at Martin Frobisher Infant School.
Have a look at our phonics sessions in action!
When will my child be able to read?
For the majority of children, by the end of Year 2 our they are fluent, confident readers who enjoy a range of texts and can demonstrate sound understanding and comprehension skills. However their reading journey begins as soon as they start Nursery. They will be immersed in stories and rhymes throughout Foundation Stage and develop their speaking and listening skills in our language rich environment. This will develop onto learning letter sounds, blending simple words, recognising tricky words, then decoding captions, until they can eventually read sentences independently.
At Martin Frobisher Infant School we take great pride in teaching our children to read and sharing their reading journey with our families.
What reading scheme will my child be reading?
We do not use one specific reading scheme but rather we use a combination so that children have access to a variety of books, including fiction, non-fiction and poetry. These include phonic based books produced by Phonics Bug and Floppy's Phonics which children will access first when they are starting to make links between letters and the sounds they make. Teachers will check their sound recognition every week and then new phonics books will be allocated at a level which is accessible to children and so they can practise and apply sounds recently taught.
Our other reading books include a selection from Collins Big Cat, Oxford Reading Tree, Usborne and Bug Club. Our reading books are all levelled using the nationally recognised book banding system. Children will choose a book banded reading book to bring home from a selection within the book band they are currently reading at as assessed by their class teacher.
Children will have at least two new reading books every week.
We feel that giving children the opportunity to choose their own reading book helps foster a love of reading and 'Reading for Pleasure' Teachers make regular assessments of children's reading and as they move through the book bands a leaflet is sent home explaining to parents how to support children's next steps in reading through the books they will bring home.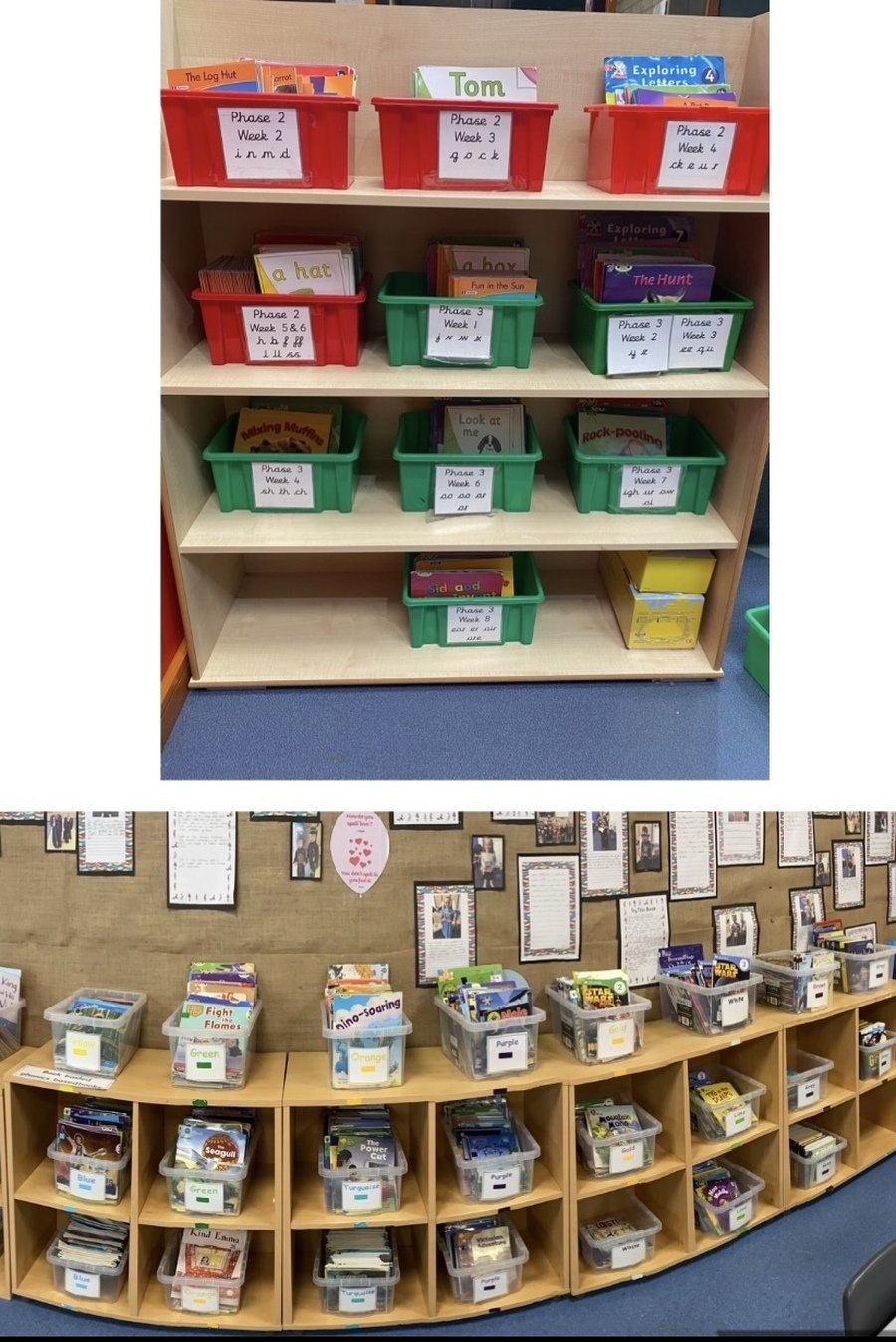 How can I help my child to read at home?
The main thing you can do to support your child at home is to read with them. Find time to read to your child as much as possible and encourage them to learn new stories and rhymes. This will develop their vocabulary and help them to understand words. Show them that you are interested in reading yourself and as a family!
If they are reading to you please give them time to decode words and then put them together in sentences. Use the adult prompt cards that we send to give you advise on how to develop their comprehension skills also.
| Name | |
| --- | --- |
| Book band info for parents- Lilac.odt | Download |
| Book band info for parents- Pink and red.docx | Download |
| Book band info for parents- Pink and red.odt | Download |
| Book band info for parents-Gold and white.odt | Download |
| Book band info for parents-Green and Orange.odt | Download |
| Book band info for parents-LIME.odt | Download |
| Book band info for parents-Turqupise and purple.odt | Download |
| Book band info for parents-Yellow and Blue.docx | Download |
Showing 1-8 of 8
Reading for 10minutes a day will develop their reading confidence greatly and will given them time to apply their phonics skills in context.
Here is our phonics leaflet for parents. This will give you some hints and tips for when you are reading at home.
What is the Year One Phonics Screening Check?
The statutory Year One phonics screening test begins in the week commencing the 1tth takes place in June. Within this your child will be asked to read a list of words, some of them real words and some of them known as pseudo or 'alien' words. The focus of the screening is to check your child's phonetic knowledge and their ability to blend and segment words using the sounds they have been taught.
At Martin Frobisher Infant School we pride ourselves in the progress children make in all aspects of their reading from their phonetic knowledge to their comprehension and love for stories and books. Please note that this is a check on their phonetic skills alone and does not take into account your child as a reader. Please continue to read a range of books and stories with your child at home and log reading in their record book.
For more information about the phonics screening check see the video below.
If you have questions about your child's reading journey or about how we teach reading at school, please speak to your class teacher or our reading lead, Mrs Adams.